Review by Debbie Reese, Beverly Slapin, and more.
Review Source: Rethinking Schools
Book Author: Ann Rinaldi
My Heart Is on the Ground: The Diary of Nannie Little Rose, a Sioux Girl is a new book published by Scholastic as part of its "Dear America" series of historical fiction diaries. Immensely popular, the series is prominent both in bookstores and in the book order forms that are a regular feature of elementary school life. Because the books are published by the widely respected Scholastic, many parents and teachers don't think twice about buying them. Rinaldi's story (written for children ages 9-12) takes place in 1880 and tells of Nannie Little Rose, a Lakota child sent to the government-run boarding school for Native Americans in Carlisle, PA.
In the author's note, Rinaldi writes that she visited the Indian burial ground at the school and saw the "dozens of white headstones bearing the names of Native-American children from all tribes who had died while at the school. The names, with the tribes inscribed underneath, were so lyrical that they leapt out at me and took on instant personalities. Although many of these children attended Carlisle at dates later than that of my story, I used some of their names for classmates of Nannie Little Rose. … I am sure that in whatever Happy Hunting Ground they now reside, they will forgive this artistic license, and even smile upon it."
We doubt it. In writing this story, Rinaldi has done a tremendous disservice to the memories of the dead children whose names she used, to their families, to Native children today, and to any child who reads and believes this book to be an accurate or authentic story about boarding school life. She has cast the government boarding school in a positive light as though it were a good thing, when it is not regarded as such by Native Americans, historians, educators, or sociologists. Continue reading.
---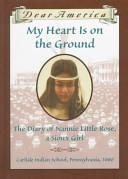 My Heart is on the Ground
by
Ann Rinaldi
Published by
Scholastic
on 1999
Genres:
American Indians, First Nations, Metis, Inuit
,
Biography and Autobiography
Pages:
205
Reading Level:
Grades 6-8
ISBN:
9780590149228
Review Source:
Rethinking Schools
Publisher's synopsis: Acclaimed historical novelist Ann Rinaldi makes her Dear America debut with the diary of a Sioux girl who is sent to a government-run boarding school to learn the white man's customs and language.