Reviewed by Ariana Hussain
Review Source: The Horn Book, Inc.
Book Author: Mina Javaherbin
The unnamed narrator recalls her childhood growing up in Iran (where the author also grew up) with her beloved grandmother, who lives with the family. The child accompanies her grandma on her daily routines ("When she swept, I swept. When she cooked, I cooked. When she prayed, I prayed like her, too"), through which the child experiences joyful elements of Iranian Islamic culture and acts of faith.
They also spend time with friends (Grandma's best friend's granddaughter is our narrator's best friend); and as the older women laugh, drink coffee, and knit blankets for their mosque and church, respectively, the children (and readers) witness a beautiful interfaith friendship. Yankey's muted illustrations work well to convey cherished memories and love, with thoughtful cultural details incorporated throughout — a hopscotch board with numbers in Persian, a henna stain on the back of a hand.
Striking Persian patterns providing an eye-catching, but not disruptive, contrast to the quotidian activities. Appended notes on the copyright page provide heartfelt details about the author's and illustrator's grandmothers. A lovely homage to the unconditional love and wisdom of elders.
---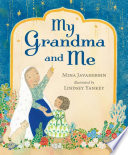 My Grandma and Me
by
Mina Javaherbin
Published by
Candlewick Press
on August 13, 2019
Genres:
Multigenerational
,
Muslim
Pages:
32
Reading Level:
Grade K
,
Grades 1-2
ISBN:
9780763694944
Review Source:
Horn Book
Publisher's Synopsis: In a true tale of a young girl in Iran and her grandmother, this beautiful ode to family celebrates small moments of love that become lifelong memories.

In this big universe full of many moons, I have traveled and seen many wonders, but I have never loved anything or anyone the way I love my grandma.

While Mina is growing up in Iran, the center of her world is her grandmother. Whether visiting friends next door, going to the mosque for midnight prayers during Ramadan, or taking an imaginary trip around the planets, Mina and her grandma are never far apart. At once deeply personal and utterly universal, Mina Javaherbin's words make up a love letter of the rarest sort: the kind that shares a bit of its warmth with every reader. Soft, colorful, and full of intricate patterns, Lindsey Yankey's illustrations feel like a personal invitation into the coziest home, and the adoration between Mina and her grandma is evident on every page.