Reviewed by: Cooperative Children's Book Center
Review Source: Cooperative Children's Book Center
Book Author: Linda Sue Park
Julia and Patrick always work together on a project for the state fair. This year, they are having a hard time coming up with an idea that pleases them both. When Julia's mother suggests they raise silkworms, as she did when she was growing up in Korea, Patrick embraces the idea wholeheartedly. Julia's not so happy – raising silkworms doesn't fit with the "all-American" projects usually found at the fair. As a member of the only Korean family in town, she's uncomfortable drawing attention to her ethnicity. And the project isn't easy – just where will they find the mulberry leaves the silkworms require as food? Continue reading.
---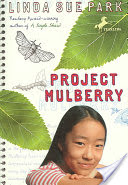 Project Mulberry
by
Linda Sue Park
Published by
Yearling
on January 1st 2007
Genres:
Animals
,
Asian American
,
Education
,
Environment
,
Immigration and Emigration
,
Racism
Pages:
225
Reading Level:
Grades 3-5
ISBN:
9780440421634
Review Source:
Cooperative Children's Book Center
Publisher's Synopsis: Julia Song and her friend Patrick want to team up to win a blue ribbon at the state fair, but they can't agree on the perfect project. Then Julia's mother suggests they raise silkworms as she did years ago in Korea. The optimistic twosome quickly realizes that raising silkworms is a lot tougher than they thought. And Julia never suspected that she'd be discussing the fate of her and Patrick's project with Ms. Park, the author of this book!