Reviewed by Debbie Reese
Review Source: American Indians in Children's Literature
Book Author: Hope
Edited by Hope Nicholson, Moonshot: The Indigenous Comics Collection, Volume 2 has stories from several people who you may know from previous AICL reviews of their work.
In particular, I'm thinking of Richard Van Camp. Some of you may recall that he is Tlicho Dene from Fort Smith in the Northwest Territories of Canada. For this review, I'm focusing on his "Water Spirits." Set in Yellowknife, the story opens with a science teacher talking to his class. (Bonus: the illustrator, Haiwei Hou, modeled the teacher after Richard, which was a surprise to Richard when he saw the illustrations.) They're about to head out to a gold mine where the tour guide will take them deeper into the mine than most tours go. There are cultural and spiritual aspects to "Water Spirits" but I am focusing on the destructive aspect of mining. Continue reading.
---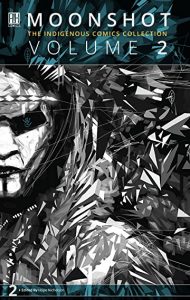 Moonshot: The Indigenous Comics Collection - Volume 2
by
Hope
Illustrator:
Nicholson
Published by
Alternate History Comics Inc
Genres:
Racism
Reading Level:
Grades 1-2
ISBN:
9780987715265
Review Source:
American Indians in Children's Literature
Volume 2 of the MOONSHOT collection centers around present-day indigenous spirituality and tradition. You will see what life and wonders exist now on this Earth, the spirit world, alternate dimensions and more through this gorgeous collection of original indigenous comic/graphic novel stories.