Reviewed by Suzanne Moyer Baazet
Review Source: Africa Access
Book Author: Somaiya Daud
Mirage is a fictional novel that not only draws the reader into its story and prose, but challenges the reader to observe futurism and science fiction in a unique cultural context where it is not commonly used.  Readers familiar with Moroccan culture find themselves constantly encountering values and traditions that are clearly Moroccan, while at the same time navigating the author's magically engaging futuristic kingdom. The names of characters, foods, dress, cultural customs, and even places in the kingdom are obviously drawn from Moroccan culture and Moroccan geography, and yet the author has used these elements abstractly and contextually to envision a fantasy world that is as intriguing as any science fiction novel rooted in a different cultural context. The protagonist, Amani, grows throughout the book from a victim into a heroine and it is her culture and tradition that give her the strength to transform herself and to overcome the challenges laid in her path. Continue reading.
---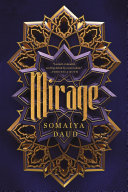 Mirage
by
Somaiya Daud
Published by
Flatiron Books
on August 27, 2019
Genres:
Africa
,
Science Fiction/Fantasy
Pages:
336
ISBN:
9781250126436
Review Source:
Africa Access
Publisher's Synopsis: "A refreshing and unique coming-of-age story...a beautiful and necessary meditation on finding strength in one's culture." —Entertainment Weekly, Top Pick of the Month

"A YA marvel that will shock breath into your lungs. If you loved The Wrath and the Dawn and Children of Blood and Bone, Mirage will captivate you." —The Christian Science Monitor

"This debut fantasy has what it takes to be the next big thing in sci-fi/fantasy." —SLJ, starred review"Immersive, captivating." —ALA Booklist, starred review

In a world dominated by the brutal Vathek empire, eighteen-year-old Amani is a dreamer. She dreams of what life was like before the occupation; she dreams of writing poetry like the old-world poems she adores; she dreams of receiving a sign from Dihya that one day, she, too, will have adventure, and travel beyond her isolated home.

But when adventure comes for Amani, it is not what she expects: she is kidnapped by the regime and taken in secret to the royal palace, where she discovers that she is nearly identical to the cruel half-Vathek Princess Maram. The princess is so hated by her conquered people that she requires a body double, someone to appear in public as Maram, ready to die in her place.

As Amani is forced into her new role, she can't help but enjoy the palace's beauty—and her time with the princess' fiancé, Idris. But the glitter of the royal court belies a world of violence and fear. If Amani ever wishes to see her family again, she must play the princess to perfection...because one wrong move could lead to her death.