Reviewed by Beverly Slapin
Review Source: De Colores Reviews 
Book Author: Meg Medina
Young Mia has a problem—her Spanish-speaking abuela has just arrived from the countryside to live with her and her family; and Mia, who speaks English only, cannot communicate as quickly and effectively as she wants to. Which means that, although the two are developing a warm, loving relationship, the bedtime stories Mia wants to hear will just have to wait. Mia, in her exuberance, has an idea that sort of works: she attaches English labels to everything in sight—even her pet hamster's cage—and a the two play "hear and say." And, as they go about their daily activities, Abuela teaches her some Spanish words as well. A slow process for a little girl, with limited success. Continue reading.
---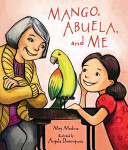 Mango, Abuela, and Me
by
Meg Medina
Illustrator:
Angela Dominguez
Published by
Candlewick Press
on 2015
Genres:
Immigration and Emigration
,
Family
Pages:
32
Reading Level:
Grades 1-2
,
Grade K
ISBN:
9780763669003
Review Source:
De Colores: The Raza Experience in Books for Children
Buy at Powell's Books
Also by this author:
Merci Suárez Changes Gears
Publisher's synopsis: When a little girl's far-away grandmother comes to stay, love and patience transcend language in a tender story written by acclaimed author Meg Medina. Mia's abuela has left her sunny house with parrots and palm trees to live with Mia and her parents in the city. The night she arrives, Mia tries to share her favorite book with Abuela before they go to sleep and discovers that Abuela can't read the words inside. So while they cook, Mia helps Abuela learn English ("Dough. Masa"), and Mia learns some Spanish too, but it's still hard for Abuela to learn the words she needs to tell Mia all her stories. Then Mia sees a parrot in the pet-shop window and has the perfectoidea for how to help them all communicate a little better. An endearing tale from an award-winning duo that speaks loud and clear about learning new things and the love that bonds family members.