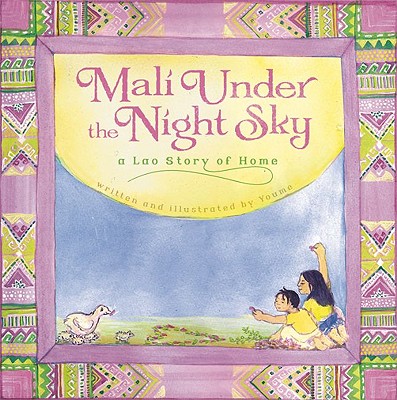 Review Source: Book Dragon
Book Author: Youme Landowne
As spare as this title might seem, it actually embodies three important sections.
The main focus is clearly the story of young Mali, which begins with her carefree life in her native Laos filled with everyday reminders "that the world was big – ngai – and full of wonderful things." Writer/artist Youme paints Mali's joy climbing flowering trees, catching tiny fish, making spicy feasts, and tying strings around the wrists of family members and special friends as a reminder "that their hearts would always be together."
Mali's idyllic life is shattered when war encroaches, driving her and her family through a dangerous journey across the Mekong River. The family lands "in the worst place [Mali] had ever been, a crowded jail." In spite of the fear, with the help of the strings on her wrist, she remembers her beautiful home and shares her wonderful memories with the people around her. Her memories are catching: "They remembered their own beautiful homes. And though the journey to a new home would be long and hard, their hearts were safe when they remembered where they had come from." And so the story ends with "Soag sai – blessings."
Then turn the page, and the real Mali appears, now a grown woman, an international artist. Her Self-Portrait faces her life story on the opposite page that begins "I am Mali." Her full name – Malichansouk Kouanchao – she explains, means "'fortuitously guided by the lights of the night sky.'" In spite of war, in spite of imprisonment, in spite of so much loss, Mali "grew up to be an artist and an activist so that all people may celebrate their own creativity even in the most difficult situations." Having lived all over the world, meeting artists along the way, she's learned that "we all find that our homes are safe in our hearts, even though they may not be safe in the world …" Continue reading.
---


Mali Under the Night Sky
by
Youme Landowne
Published by
Cinco Puntos Press
on 2010
Genres:
Asia
Pages:
40
ISBN:
9781933693682
Review Source:
Book Dragon
Buy at Powell's Books
Publisher's Synopsis: Mali Under the Night Sky, a 2011 Skipping Stones honor book, is the true story of Laotian American artist Malichansouk Kouanchao, whose family was forced by civil war to flee Laos when she was five. Before the war began, Mali lived an idyllic life in a community where she felt safe and was much loved. But the coming war caused her family to flee to another country and a life that was less than ideal. What did she carry with her? She carried her memories. And they in turn carried her across the world, sharing whereshe is from and all that she loves with the people she meets.

Terry Hong of the Smithsonian Asian Pacific American Program's BOOK DRAGON, giving context to Youme's remarkable book, said, "Today, December 7, marks the 69th anniversary of the attack on Pearl Harbor, 'a date which will live in infamy,'... Seven decades later, infamy lives on, stealing childhoods, families, homes, lives. Now as another year comes to a close, we pray for peace ... again and again ... again and again ... [Mali Under the Night Sky] is another hopeful, urgent prayer." And theMidwest Book Review calls it "a soul-stirring picturebook about the difficulties faced by wartime refugees, and deserves the highest recommendation."

Youme Landowne is an energetic and joyful painter, book artist, and activist who thrives in the context of public art. Youme has lived in and learned from the United States, Kenya, Japan, Laos, Haiti, and Cuba. In all of these places, she has worked with communities and individuals to make art that honors personal and cultural wisdom, creating community murals, illustrating tiny books, and teaching poetry in schools.