Reviewed by: Sarah Hannah Gómez
Review Source: Latinxs in Kid Lit
Book Author: Marjorie Agosin
This reads like a pretty classic middle grade novel in the tradition of Sharon Creech or Patricia Reilly Giff. Celeste has a very sweet and thoughtful way about her, and she narrates the day-to-day of her life with the eye of a girl who is young but observant. There is some beautiful scene setting in her house, where her grandmother, nanny, mother, and father dote on her; and at school, where she has a great teacher and the usual smattering of fun, doofy, and snobbish classmates. She has an idyllic life and loves it—until the president is assassinated and the dictator takes over.
Agosín does a good job of showing how this type of takeover happens gradually and all at once, and Celeste observes different things happening – like some classmates not showing up for school or the adults in her life all of a sudden being worried about her safety – and only slowly begins to put them together as being related to the same thing. When she moves to Maine, Celeste remains very observant and thoughtful about everything. Her descriptions are just beautiful. Continue reading.
---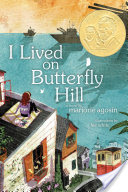 I Lived on Butterfly Hill
by
Marjorie Agosin
Published by
Simon and Schuster
on February 10th 2015
Genres:
Immigration and Emigration
,
Latinx
,
South America
Pages:
464
Reading Level:
Grades 6-8
ISBN:
9781416994022
Review Source:
Latinx in Kid Lit
Publisher's Synopsis: An eleven-year-old's world is upended by political turmoil in this "lyrically ambitious tale of exile and reunification" (Kirkus Reviews) from an award-winning poet, based on true events in Chile.

Celeste Marconi is a dreamer. She lives peacefully among friends and neighbors and family in the idyllic town of Valparaiso, Chile—until one day when warships are spotted in the harbor and schoolmates start disappearing from class without a word. Celeste doesn't quite know what is happening, but one thing is clear: no one is safe, not anymore.

The country has been taken over by a government that declares artists, protestors, and anyone who helps the needy to be considered "subversive" and dangerous to Chile's future. So Celeste's parents—her educated, generous, kind parents—must go into hiding before they, too, "disappear." Before they do, however, they send Celeste to America to protect her.

As Celeste adapts to her new life in Maine, she never stops dreaming of Chile. But even after democracy is restored to her home country, questions remain: Will her parents reemerge from hiding? Will she ever be truly safe again?

Accented with interior artwork, steeped in the history of Pinochet's catastrophic takeover of Chile, and based on many true events, this multicultural ode to the power of revolution, words, and love is both indelibly brave and heartwrenchingly graceful.