Reviewed by Don Allen
Review Source: Teaching for Change
Book Author: Derf Backderf
This outstanding graphic novel fills a huge void in the Kent State literature.
While Kent State University's library has a whole room dedicated to May 4th, 1970 – there is enough reading to last for years – there have been few books for young people. (Deborah Wiles has also just released a YA novel in verse about the shootings).
The graphic format lends itself brilliantly to telling this history. The story panels are filled with people and opinions, many wrong, some dangerous. Derf is able to tell the story from multiple viewpoints, lots of them straight from the history books or oral histories. We see the stories of students, including those who were shot, guardsman, military leaders, and, infuriatingly, undercover agents.
Derf, his pen name during his decades of cartooning, spent three years on research and the artwork was one of the biggest challenges of his career. His combination of storytelling and history creates a rich tapestry of the events leading up to May 4.  He blends historical facts with the fictionalized dialogue between the reality-based "characters."
The goal here is to review the book and to not rehash the events of the shooting; however, Derf has added nuance and differing viewpoints, so it is important to point out his additions to the usual discourse about the events. For instance, early in the narrative, Derf lays out the various conflicts existing in the community (and country) – "Town v Gown," the conservative, middle American town folk versus the growing radical, anti-war students, the SDS (Students for a Democratic Society)/protesters versus the school administration/government, and the entire campus versus the National Guard, with its working class members being forced by Governor Rhodes to be strike-breakers and protest control.
Another key point made early by Derf: "There are, incredibly, five law enforcement agencies working on or around campus in 1970. All operating independently and often blundering into one another." In addition to the five visible agencies, the campus was crawling with undercover agents, NARC's, snitches, and provocateurs. In one of the most powerful presentations in the book, Derf uses a 2-page spread to show all of the outrageous efforts of government agencies to monitor and control its citizenry – reminding us that COINTELPRO was at its surreptitious peak in 1970.
In May of 1970, recent events (anti-war protests) in Columbus at Ohio State led to violence, which then led to Governor Rhodes overreacting and sending the National Guard to Kent. The guard overreacted and shut down an earlier protest with tear gas and bayonets, stabbing students. The guard violence led to the protest on May 4th – many of the students were protesting the National Guard's undeclared martial law on the campus and not the war, which had expanded into Cambodia and was igniting protests across the country. This is not a new idea, but Derf clearly demonstrates the obnoxiousness of the Guard presence and their blatant (and disgusting) contempt for students.
Key narratives from this book that are relevant to current times:
Right-wing authoritarianism is the rule, not the exception. Ohio governor, James Rhodes, an ally of Nixon, mobilized the National Guard 20 times — more often than any other governor. Examples of the many guard mobilizations were strike-breaking in nearby Richfield and policing/crushing an African American uprising in Hough, a neighborhood on Cleveland's east side. Currently, police are rightly criticized for their militaristic approach to policing. Rhodes was a forerunner — he used the military to do his policing.
The full infiltration into the Kent campus and protests by so-called U.S. intelligence agencies was insidious. This outrageousness continues today – credible reports indicate that Black Lives Matter and the environmental movements are infiltrated and treated as hostile organizations that are monitored by the FBI and others. Currently, the U.S. isn't as brazen as when they killed Fred Hampton in his own home, but dozens of environmental and Indigenous activists have been killed throughout the Americas and a disproportionate number of Ferguson protesters have died mysteriously. Being an activist/resistor is still dangerous.
Fifty years after Kent State, reports indicate the FBI has spent more time investigating and infiltrating Black Lives Matter than they have spent investigating the right-wing hate groups that perpetuate racist violence and feed misinformation into hatred-spewing mass shooters. The incidents in Kent aren't directly tied to today's political leaders, but the events in 1970 show how elected leaders are not only mistrustful of their own constituents, but also treat them as enemies.
By introducing us to the shooting victims of May 4th, Derf brings emotional power to the book. We knew that there would be death at the end, maybe we even knew the students' names, but it doesn't prepare you for the sadness and uselessness of their deaths. Their deaths demonstrated that the country was turning on itself. It forced a reckoning. Imagine what 100,000 deaths will do. Thanks to Derf, we can easily see how events can spin out of control to cause irreversible damage to our society.
For further reading:
'Tin Soldiers and Nixon's Coming': The shootings at Kent State and Jackson State at 50
A Short History of U.S. Law Enforcement Infiltrating Protests
---
Don Allen is the Publications Director at Teaching for Change and a class of '89 alumnus of Kent State University.
---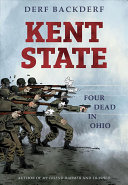 Kent State
by
Derf Backderf
Published by
Abrams
on April 7, 2020
Genres:
Activism
,
U.S. History
Pages:
288
Reading Level:
High School
ISBN:
9781419734847
Review Source:
Teaching for Change
Publisher's Synopsis: From bestselling author Derf Backderf comes the untold story of the Kent State shootings — timed for the 50th anniversary.

On May 4, 1970, the Ohio National Guard gunned down unarmed college students protesting the Vietnam War at Kent State University. In a deadly barrage of 67 shots, four students were killed and nine shot and wounded. It was the day America turned guns on its own children — a shocking event burned into our national memory. A few days prior, 10-year-old Derf Backderf saw those same Guardsmen patrolling his nearby hometown, sent in by the governor to crush a trucker strike. Using the journalism skills he employed on My Friend Dahmer and Trashed, Backderf has conducted extensive interviews and research to explore the lives of these four young people and the events of those four days in May, when the country seemed on the brink of tearing apart. Kent State: Four Dead in Ohio, which will be published in time for the 50th anniversary of the tragedy, is a moving and troubling story about the bitter price of dissent — as relevant today as it was in 1970.