Reviewed by Debbie Reese
Review Source: American Indians in Children's Literature
Book Author: Joseph Marshall III
Joseph Marshall III is an enrolled member of the Sicangu Lakota (Rosebud Sioux) tribe. Born and raised on the Rosebud Sioux reservation, he is the author of several books about Lakota people.
Last year, I read his The Journey of Crazy Horse: A Lakota History. I highly recommend it. In 2011, Marshall's book was selected for the One Book South Dakota project. Over 2400 Native high school students in South Dakota were given a copy of it. How cool is that? (Answer: very cool, indeed!)
Yesterday, I finished his In the Footsteps of Crazy Horse. First thing I'll say? Get it. Order it now… To my knowledge, there is nothing like it for kids. Continue reading.
---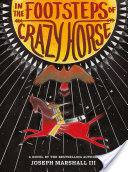 In the Footsteps of Crazy Horse
by
Joseph Marshall III
Published by
Abrams
on November 10th 2015
Genres:
American Indians First Nations Metis Inuit
,
Family
,
Multigenerational
,
War
Pages:
176
ISBN:
9781613128312
Review Source:
American Indians in Children's Literature
Publisher's Synopsis: Jimmy McClean is a Lakota boy though you wouldn't guess it by his name: his father is part white and part Lakota, and his mother is Lakota. When he embarks on a journey with his grandfather, Nyles High Eagle, he learns more and more about his Lakota heritage in particular, the story of Crazy Horse, one of the most important figures in Lakota and American history. Drawing references and inspiration from the oral stories of the Lakota tradition, celebrated author Joseph Marshall III juxtaposes the contemporary story of Jimmy with an insider s perspective on the life of Tasunke Witko, better known as Crazy Horse (c. 1840 1877).

The book follows the heroic deeds of the Lakota leader who took up arms against the US federal government to fight against encroachments on the territories and way of life of the Lakota people, including leading a war party to victory at the Battle of the Little Bighorn. Along with Sitting Bull, Crazy Horse was the last of the Lakota to surrender his people to the US army. Through his grandfather s tales about the famous warrior, Jimmy learns more about his Lakota heritage and, ultimately, himself.