Reviewed by Debbie Reese
Review Source: American Indians in Children's Literature
Book Author: Tasha Spillett-Sumner
As I sit here at my computer on Wednesday, May 12, 2021, and think about the books that I reviewed last week, I notice that women and children, and grandchildren are at the center of each one. That continues with I Sang You Down From the Stars. With this book, we add a baby. I've written reviews of books about babies before (Richard Van Camp and Julie Flett's We Sang You Home is one) and am delighted to add this one!
Spillett-Sumner and Goade's book was published on April 6. Right away, it was on the New York Times bestseller list. Just look at that cover! Isn't it breathtaking? The words and the art in I Sang You Down from the Stars sparkle with warmth and love.
Stories about family members working together always resonate with me, especially ones about sewing. These reflect our communities in such beautiful ways. Look at this double-paged spread in I Sang You Down from the Stars. On the left, we see people at a table, cutting fabric. We see a child, showing an elder a finished square. That scene tugs on my heart as this family gets ready to welcome a baby into the family and its community (I took this photo outside in the early morning light):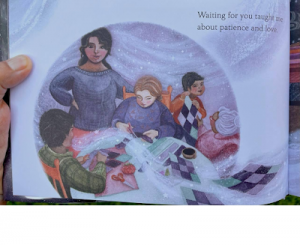 And when the baby is born, we read:
Family and friends came from near and far to welcome you.
One by one, they held you and greeted you.
Those words, too, invoke strong memories full of love! Mama's holding little children so they can cradle the new babies!
Continue reading
.
---

I Sang You Down from the Stars
by
Tasha Spillett-Sumner
on 2021
Genres:
American Indians First Nations Metis Inuit
Pages:
32
Reading Level:
Early Childhood
,
Grade K
ISBN:
9780316493161
Review Source:
American Indians in Children's Literature
A New York Times bestseller!

This unique baby book sings with Native cultural detail, while striking a universal chord in its celebration of the blossoming of love that comes with expecting and welcoming a new baby — with art by New York Times bestselling illustrator and Caldecott Medalist Michaela Goade.

As she waits for the arrival of her new baby, a mother-to-be gathers gifts to create a sacred bundle. A white feather, cedar and sage, a stone from the river . . .
Each addition to the bundle will offer the new baby strength and connection to tradition, family, and community. As they grow together, mother and baby will each have gifts to offer each other.

Tasha Spillett-Sumner and Michaela Goade, two Indigenous creators, bring beautiful words and luminous art together in a resonant celebration of the bond between mother and child.