Reviewed by Tameka Brown
Review Source: The Brown Bookshelf
Book Author: Margot Lee Shetterly
The book pays homage to four trailblazing African American human computers–Dorothy Vaughan, Mary Jackson, Katherine Johnson and Christine Darden–who served as an integral part of NASA/NACA at the height of the Space Race between America and Russia. In November 2016, HarperCollins released the Young Readers' version of Hidden Figures for middle grade readers. It too, of course, became a NYT bestseller. Continue reading.
---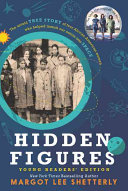 Hidden Figures Young Readers' Edition
by
Margot Lee Shetterly
Published by
HarperCollins
on November 29th 2016
Genres:
Activism
,
African American
,
Girls and Women
,
Racism
,
Science
,
Technology
,
U.S. History
Pages:
240
Reading Level:
Grades 3-5
,
Grades 6-8
ISBN:
9780062662378
Review Source:
The Brown Bookshelf
Publisher's Synopsis: New York Times bestselling author Margot Lee Shetterly's book is now available in a new edition perfect for young readers. This is the amazing true story of four African-American female mathematicians at NASA who helped achieve some of the greatest moments in our space program. Now a major motion picture starring Taraji P. Henson, Octavia Spencer, Janelle Monae, Kirsten Dunst, and Kevin Costner.
Before John Glenn orbited the earth, or Neil Armstrong walked on the moon, a group of dedicated female mathematicians known as "human computers" used pencils, slide rules, and adding machines to calculate the numbers that would launch rockets, and astronauts, into space. This book brings to life the stories of Dorothy Vaughan, Mary Jackson, Katherine Johnson, and Christine Darden, four African-American women who lived through the civil rights era, the Space Race, the Cold War, and the movement for gender equality, and whose work forever changed the face of NASA and the country.