Reviewed by 
Debbie Reese
Review Source: American Indians in Children's Literature
Book Author: Cynthia Leitich Smith
I'll start by echoing the title of this post. I highly recommend Cynthia Leitich Smith's Hearts Unbroken. Lou, the main character, is a senior in high school. There's a lot in here that I love, for several reasons. There are spoilers below, so you might want to read the book and come back, later.
My ARC (advance reading copy) of Hearts Unbroken book has so many corners turned up or down. See? The top end looks that way, too.
I wasn't marking my place. I was marking a page that has something I want come back to. Something that moved me — to a smile, a squeeze of my heart, a laugh, or an UGH–because it captured life for so many Native teens who most of America doesn't see, even though they are right there, in front of you. Continue reading.
---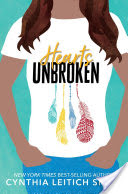 Hearts Unbroken
by
Cynthia Leitich Smith
Published by
Candlewick Press
on October 9, 2018
Genres:
American Indians First Nations Metis Inuit
Pages:
304
Reading Level:
High School
ISBN:
9781536202007
Review Source:
American Indians in Children's Literature
Also by this author:
Sisters of the Neversea
Publisher's Synopsis: New York Times best-selling author Cynthia Leitich Smith turns to realistic fiction with the thoughtful story of a Native teen navigating the complicated, confusing waters of high school — and first love.

When Louise Wolfe's first real boyfriend mocks and disrespects Native people in front of her, she breaks things off and dumps him over e-mail. It's her senior year, anyway, and she'd rather spend her time with her family and friends and working on the school newspaper. The editors pair her up with Joey Kairouz, the ambitious new photojournalist, and in no time the paper's staff find themselves with a major story to cover: the school musical director's inclusive approach to casting The Wizard of Oz has been provoking backlash in their mostly white, middle-class Kansas town. From the newly formed Parents Against Revisionist Theater to anonymous threats, long-held prejudices are being laid bare and hostilities are spreading against teachers, parents, and students — especially the cast members at the center of the controversy, including Lou's little brother, who's playing the Tin Man. As tensions mount at school, so does a romance between Lou and Joey — but as she's learned, "dating while Native" can be difficult. In trying to protect her own heart, will Lou break Joey's?