Reviewed by: Edi Campbell
Review Source: Cotton Quilts
Book Author: Wendy Wan-Long Shang
The Great Wall of Lucy Wu is Wendy Wan-Long Shang's first novel. It is the story of sixth grader, Lucy Wu, whose life is about to be ruined not only by a long lost aunt with whom she has to share a bedroom, by Talent Chang and her new Chinese school and by Sloan. Sloan and Lucy both want to be the captain of the sixth grade basketball team, Lucy because of her basketball skills and Sloan because of her well developed bullying skills. Lucy builds a physical wall in her bedroom to keep her aunt out of her life and she builds emotional and social walls to keep Sloan and Talent out. The thing with walls is that while we think they're keeping everyone out of our space, they're also keeping us out of everyone else's.
Lucy is bitter about her aunt's visit, about being forced to give up basketball for Chinese school and she's confused about what to do about Sloan. Lucy hasn't given up completely on her Chinese culture, she's just at a stage in her life where she's about to begin self actualizing, figuring out who she really is and what she really values. She'll probably always prefer Italian food to Chinese, but nothing will bring her more satisfaction than her aunt's noodles. We see a lot of growth in this character who experiences many situations which are true to life and easy to identify with. Shang did an excellent job of developing Lucy's internal struggles so that her change in attitude is believable and understandable. Continue reading.
---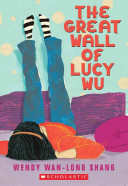 The Great Wall of Lucy Wu
by
Wendy Wan-Long Shang
Published by
Scholastic
on 2013
Genres:
Asian American
,
Family
,
Sports
Pages:
320
Reading Level:
Grades 3-5
,
Grades 6-8
ISBN:
9780545162166
Review Source:
Cotton Quilts
Publisher's Synopsis: A humorous and heartwarming debut about split cultural identities, and all the ways life fails to go according to plan for sixth-grader Lucy Wu.

Lucy Wu, aspiring basketball star and interior designer, is on the verge of having the best year of her life. She's ready to rule the school as a sixth grader, go out for captain of the school basketball team, and take over the bedroom she has always shared with her sister. In an instant, though, her plans are shattered when she finds out that Yi Po, her beloved grandmother's sister, is coming to visit for several months -- and is staying in Lucy's room.

Lucy's vision of a perfect year begins to crumble, and in its place come an unwelcome roommate, foiled birthday plans, a bully who tries to scare Lucy off the basketball team, and Chinese school with the annoying know-it-all Talent Chang. Lucy's year is ruined -- or is it?

A wonderfully funny, warm, and heartfelt tale about the ways life often reveals silver linings in the most unexpected of clouds.