Reviewed by Jo M. Sullivan
Review Source: Africa Access
Book Author: Robtel Neajai Pailey
This book is one in a series, The Liberia Signature Series, from the publisher, One Moore Book, which states as its goal that it "publishes culturally sensitive and educational stories for children of countries with low literacy rates and underrepresented cultures."
This picture book attempts to teach a moral lesson about corruption (gbagba in the Bassa language of Liberia). Instead it conveys negative stereotypes of Liberia, urban residents and Asian merchants. Continue reading.
---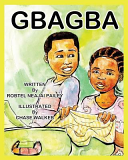 Gbagba
by
Robtel Neajai Pailey
Illustrator:
Chase Walker
Published by
One Moore Book
on October 30th 2012
Genres:
Africa
Pages:
48
Reading Level:
Early Childhood
ISBN:
9780615721798
Review Source:
Africa Access
Publishers Synopsis: Sundaymah and Sundaygar are two siblings who live in Grand Bassa County in Liberia. On the way to visit their Auntie Mardie's house in Monrovia, they encounter various characters in the big city and have an experience that introduces them to a very important word.