Book Review by Lyn Miller Lachman
Review Source: Pirate Tree
Book Author: Laura Atkins, Stan Yogi
At the time of the bombing, Fred Korematsu helped his Japanese immigrant parents and U.S. born brothers at the family nursery. He had fallen in love with an Italian American woman, and to keep from being sent to the camp and separated from her, he went into hiding. But he was caught, jailed, and sent to the camp where the rest of his family had already been interned. He decided to sue, and his case went all the way to the Supreme Court – where he lost. Later, when it turned out the evidence for the internment – that Japanese Americans on the West Coast were sending signals to enemy ships – his conviction was overturned. Continue reading.
Additional review: Not enough students learn about the internment (better described as imprisonment) of Japanese Americans during World War II in the United States. But of those who do, even fewer learn about resistance by Japanese Americans. Fred Korematsu believed that what the U.S. government was doing was unconstitutional and fought his internment all the way to the Supreme Court. That is why this story should be in every classroom. Filled with photos, primary documents, and illustrations, Fred Korematsu Speaks Up tells Korematsu's story, including how the case was reopened in 1983 when lawyer Peter Irons found hidden documents at the National Archives. With discussions of a "Muslim registry" in the news, this book couldn't be more timely. [Review by Rethinking Schools.]
---
Additional review: "Teaching Kids to Resist" by Suzanne Enzerink in Public Books.
---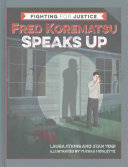 Fred Korematsu Speaks Up
by
Laura Atkins
,
Stan Yogi
Illustrator:
Yutaka Haulette
Published by
Heyday
on January 1st 2017
Genres:
Activism
,
Asian American
,
Biography and Autobiography
,
Criminal Justice
,
OwnVoices
,
U.S. History
,
War
Reading Level:
Grades 6-8
ISBN:
9781597143684
Review Source:
Pirate Tree
Buy at Powell's Books
Also by this author:
Biddy Mason Speaks Up
Synopsis: The first major book for young people to tell the Internment story of one man and to talk about how he fought against its legality for 40 years and won