Reviewed by: Adam Sanchez
Review Source: Zinn Education Project
Book Author: Harriette Gillem Robinet
This chapter book of historical fiction by Harriette Gillem Robinet is one of the best resources available for elementary school classrooms on the Reconstruction era.
40 Acres and Maybe a Mule tells the story of Pascal, who is still enslaved at the end of the Civil War. When his older brother Gideon, who had run away to join the Union Army earlier in the war, returns with news of the government distributing "40 acres and a mule" to freed families, Pascal decides to follow his brother off the plantation. After gathering Pascal's friend Nelly, an eight-year old girl who had been sold away from her family, the three begin a journey across South Carolina and eventually into Georgia to begin a new life in freedom. Along the way they meet other freed people they incorporate into their new family.
In Georgia, they are given forty acres near a poor white family that they befriend. They help the poor white family and hire other Black people to work the land. They go to an integrated school and Union League meetings in town. The reader becomes invested in the success of their farm and the happiness of the characters. Tragically, the book ends with them losing their farm to someone who is a "nightrider" and a former slave owner. The family breaks apart, but the three original characters journey to the Georgia Sea Islands in the hope of acquiring a new farm. Continue reading.
---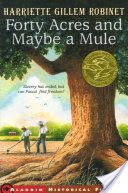 Forty Acres and Maybe a Mule
by
Harriette Gillem Robinet
Published by
Simon and Schuster
on February 22nd 2011
Genres:
African American
,
Racism
,
Reconstruction
Pages:
144
Reading Level:
Grades 6-8
ISBN:
9781439136232
Review Source:
Zinn Education Project
Publisher's Synopsis:

Winner of the 1999 Scott O'Dell Award A Notable Children's Book in the Field of Social Studies Maybe nobody gave freedom, and nobody could take it away like they could take away a family farm. Maybe freedom was something you claimed for yourself. Like other ex-slaves, Pascal and his older brother Gideon have been promised forty acres and maybe a mule. With the family of friends they have built along the way, they claim a place of their own. Green Gloryland is the most wonderful place on earth, their own family farm with a healthy cotton crop and plenty to eat. But the notorious night riders have plans to take it away, threatening to tear the beautiful freedom that the two boys are enjoying for the first time in their young lives. Coming alive in plain, vibrant language is this story of the Reconstruction, after the Civil War.