Reviewed by: Kathleen Nganga
Review source: Independent
Book Author: Lesa Cline-Ransome
Finding Langston is Lesa Cline-Ransome's superb first novel. The book is about eleven-year-old Langston, a young boy from Alabama who moves with his father to Chicago in 1946 after the death of his mother. The move jars Langston as he is forced to grapple with a new city, a new way of life, and a new school. Nothing is comfortable nor comforting until he walks into a library and finds solace in the words of Langston Hughes, a poet who has his name and knows young Langston's pain.
Set in the mid-1940s, Cline-Ransome takes the reader into the heart of the Second Great Migration and details some of the conditions that African Americans faced in the South and the North in this post-war period. The book doesn't shy away from the topics of segregation and discrimination as Langston encounters it in the libraries in the South, in the passenger cars on the railway to the North, and in the neighborhoods of Chicago.
The book also touches on the Port Chicago Disaster of 1944, and while it appropriately doesn't go into the macabre details of the disaster or the segregation practices that made African American units do the most dangerous jobs, the brief reference gives young readers the chance to start examining the history of oppression in the United States and to ask critical questions.
In addition to the rich historical details, Finding Langston also touches on topics like bullying, death, grieving. In short, Cline-Ransome delivers a story rich in history and human complexity.
Kathleen Nganga interned with Teaching for Change as a Truman fellow in the summer of 2018.
---
Also recommended by Edith Campbell in a Cotton Quilts review.
---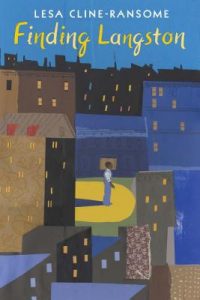 Finding Langston
by
Lesa Cline-Ransome
Published by
Holiday House
on 2018
Genres:
African American
,
Bullying
,
Death and Dying
,
Family
,
Friendship
,
U.S. History
Pages:
112
Reading Level:
Grades 3-5
,
Grades 6-8
ISBN:
9780823439607
Review Source:
Independent
Also by this author:
Before She Was Harriet
Publisher's Synopsis: In a debut historical novel about the Great Migration a boy discovers Chicago's postwar South Side and the poetry of Langston Hughes.

When 11-year-old Langston's mother dies in 1946, he and his father leave rural Alabama for Chicago's brown belt as a part of what came to be known as the Great Migration. It's lonely in the small apartment with just the two of them, and at school Langston is bullied. But his new home has one fantastic thing. Unlike the whites-only library in Alabama, the local public library welcomes everyone. There, hiding out after school, Langston discovers another Langston, a poet whom he learns inspired his mother enough to name her only son after him.