Reviewed by 
Zetta Elliott
Review Source: Zetta Elliott
Book Author: Nic Stone
When a friend asked me last fall to address the problems she found in Dear Martin, I hedged. Few people thanked me for pointing out the issues I had with All American Boys (though many were quick to praise Jason Reynolds for his "gracious" response), and I didn't want to become known for "targeting" or "picking on" Black authors when so few of us manage to get published. But in the end, I decided something needed to be said because I've noticed a disturbing trend in publishing: novels by Black authors about police violence against Black boys where White girls take center stage.
I decided not to blog about The Truth of Right Now (2017) by Kara Lee Corthron when I read it last fall. Another friend urged me to read that YA novel; he found the writing superior to The Hate You Give (2017) and couldn't understand why it wasn't garnering equal attention. It's a very different kind of story; a White girl attempts suicide after being raped and exploited by a White male teacher at her high school; when Lily meets Dari, an artistic Black boy with an abusive father and absent mother, her outlook on life changes and she invites him to move in with her and her mother.
Dari then becomes the object of desire for both mother and daughter, and the novel concludes with an ugly confrontation in the street with police. When Lily denies knowing Dari, he is brutalized by police and hospitalized. It was clear to me why this novel didn't achieve the blockbuster status of THUG, and I wondered why such a strong writer would choose to tell this particular story. I support the right of artists to create freely, but with so few Black female YA authors getting published it's frustrating to see several choosing to put the focus on Black boys and White girls. Where does that leave Black girls? Continue reading.
---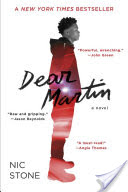 Dear Martin
by
Nic Stone
Published by
Crown
on 2017
Genres:
African American
,
Criminal Justice
Pages:
210
Reading Level:
High School
ISBN:
9781101939529
Review Source:
Zetta Elliott
Buy at Powell's Books
Publisher's Synopsis: "Powerful, wrenching." -JOHN GREEN, #1 New York Times bestselling author of Turtles All the Way Down

"Raw and gripping." -JASON REYNOLDS, New York Times bestselling coauthor of All American Boys

"A must-read!" -ANGIE THOMAS, #1 New York Times bestselling author of The Hate U Give

Raw, captivating, and undeniably real, Nic Stone joins industry giants Jason Reynolds and Walter Dean Myers as she boldly tackles American race relations in this stunning New York Times bestselling debut, a William C. Morris Award Finalist.

Justyce McAllister is a good kid, an honor student, and always there to help a friend--but none of that matters to the police officer who just put him in handcuffs. Despite leaving his rough neighborhood behind, he can't escape the scorn of his former peers or the ridicule of his new classmates.

Justyce looks to the teachings of Dr. Martin Luther King Jr. for answers. But do they hold up anymore? He starts a journal to Dr. King to find out.

Then comes the day Justyce goes driving with his best friend, Manny, windows rolled down, music turned up--way up, sparking the fury of a white off-duty cop beside them. Words fly. Shots are fired. Justyce and Manny are caught in the crosshairs. In the media fallout, it's Justyce who is under attack.

"Vivid and powerful." -Booklist, Starred Review "A visceral portrait of a young man reckoning with the ugly, persistent violence of social injustice." -Publishers Weekly