Reviewed by Keesha Ceran
Review Source: Teaching for Change
Book Author: Angela Joy
This summer, after reading the words below, I became undone.
With steadfast faith and tender care, Emmett did recover,
but the polio left a scar —
an invisible reminder —
a stutter of speech,
From time to time,
Emmett's tongue and mind got stuck on words like
"bubble gum,"
"soda pop,"
or "Moon Pie"
But Mamie found a trick — a work-around:
She told him to stop,
take a breath,
and whistle.
Whistling calmed Emmett,
steadied him,
allowing him to finish what he started to say.
The connection is made between a young teenager's practice to calm himself and speak "clearly" and his tragic murder. If you know the story of Emmett Till, you are keenly aware that this fourteen-year-old boy was murdered at the hands of white supremacy because of an alleged "catcall." But in all of my knowledge about the life and murder of Emmett Till, I had not been aware of the connection between his stutter and one of the many lessons of strength that Ms. Mamie Till-Mobley taught her son, and us.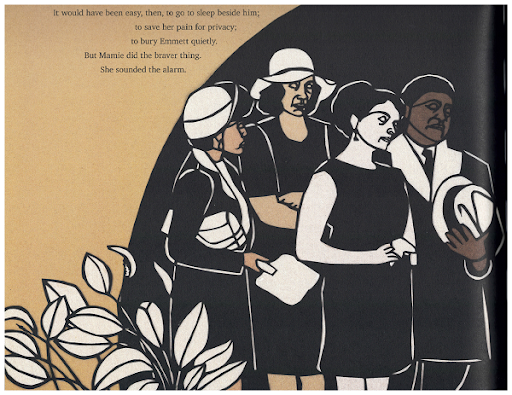 In this new award-winning book, Choosing Brave: How Mamie Till-Mobley and Emmett Till Sparked the Civil Rights Movement, poetically written by Angela Joy and beautifully illustrated by Janelle Washington, young children become acquainted with the strength that was Mamie Till-Mobley and the story of love between a mother and her son.
The book repeats the phrases "the harder thing" and "the braver thing," connecting the many struggles where Till-Mobley had to make difficult decisions. This book's "harder" and "braver" narrative includes some individual acts — such as Mrs. Rosa Parks who "sat down" — but within the context of a wider movement that was indeed moving "city to city, town to town." It would have been easy for this book to have fallen down the "hero" trap, but the story tells so much more.
In the midst of a concerted anti-history effort by the right-wing, a book that wrestles with love, loss, and strength is necessary, especially when central to this history is the murder of a 14 year old. A child whose murder was a catalyst for many to call, march, and boycott for justice, then and sadly still today. Ms. Mamie Till-Mobley's vulnerability in publicly displaying her personal pain made that possible. With their contribution, Joy and Washington center the reality that if a 14 year old is "old enough" to be murdered as a result of white supremacy, then 14 year olds today, still witnessing these same tragedies, should have the ability to read about it.
Let the people see what I have seen.
We have averted our eyes far too long.
Everybody needs to know what happened to Emmett Till.
~ Mamie Till-Mobley
Keesha Ceran is the associate director at Teaching for Change. 
---

Choosing Brave
by
Angela Joy
Published by
Roaring Brook Press
on September 6, 2022
Genres:
Black History
,
Mississippi
Pages:
64
Reading Level:
Grades 3-5
ISBN:
9781250220950
Review Source:
Teaching for Change
Also by this author:
Black Is a Rainbow Color
Publisher's Synopsis: A Caldecott-honor winning picture book biography of the mother of Emmett Till, and how she channeled grief over her son's death into a call to action for the civil rights movement.

Mamie Till-Mobley is the mother of Emmett Till, the 14-year-old boy who was brutally murdered while visiting the South in 1955. His death became a rallying point for the civil rights movement, but few know that it was his mother who was the catalyst for bringing his name to the forefront of history.

In Choosing Brave, Angela Joy and Janelle Washington offer a testament to the power of love, the bond of motherhood, and one woman's unwavering advocacy for justice. It is a poised, moving work about a woman who refocused her unimaginable grief into action for the greater good. Mamie fearlessly refused to allow America to turn away from what happened to her only child. She turned pain into change that ensured her son's life mattered.

Timely, powerful, and beautifully told, this thorough and moving story has been masterfully crafted to be both comprehensive and suitable for younger readers.