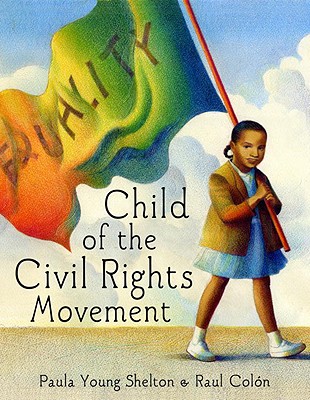 Reviewed by Jenice L. View
Review Source: Teaching for Change
Book Author: Paula Young Shelton
Teachers are often frustrated with how to teach historical events in an accurate and nuanced way. This is particularly challenging for early elementary teachers when mob violence and complex philosophical controversies are a central part of the story.
Teaching the history of the modern Civil Rights Movement presents a special difficulty because so many of its veterans are still living and parts of the story have become absorbed as mythology into the mainstream culture. Therefore, it is a joy to read Child of the Civil Rights Movement by Paula Young Shelton and Raul Colon. Who better to tell the story than a first-grade teacher whose parents were on the front lines of the Movement?
Shelton and Colon's book is physically and lyrically beautiful. More importantly, it is written in a way that will resonate emotionally with young children without lying to or scaring them. While it highlights the superstars at the expense of the everyday people who fueled the Movement, the book also places children into the story and lends a humanity and community to the people in leadership without being saccharine.
This is a lovely and long-awaited book.
---
Also see: Doing Justice to Martin Luther King Jr. Day with Young Children
---
Teaching Idea
Comfort Food: Lesson for Child of the Civil Rights Movement
The Comfort Food lesson was designed to help students make a personal connection to the civil rights movement and to recognize that people, just like themselves, came together as a community to fight against the injustices of segregation and discrimination. The use of food in the story helps students to identify with the civil rights activists, unified by a common goal and engaging in the common practice of fellowship over a meal. Download full lesson.
---

Child of the Civil Rights Movement
by
Paula Young Shelton
Published by
Schwartz & Wade Books
on 2010
Genres:
African American
,
Civil Rights Movement
,
Family
,
OwnVoices
,
U.S. History
Pages:
48
Reading Level:
Grade K
,
Grades 1-2
ISBN:
9780375843143
Review Source:
Teaching for Change
Publisher's synopsis: In this Bank Street College of Education Best Children's Book of the Year, Paula Young Shelton, daughter of civil rights activist Andrew Young, brings a child's unique perspective to an important chapter in America's history. Paula grew up in the deep south, in a world where whites had and blacks did not. With an activist father and a community of leaders surrounding her, including Uncle Martin (Martin Luther King), Paula watched and listened to the struggles, eventually joining with her family--and thousands of others-in the historic march from Selma to Montgomery. Poignant, moving, and hopeful, this is an intimate look at the birth of the Civil Rights Movement.