Reviewed by: Jean Mendoza
Review Source: American Indians in Children's Literature
Book Author: Eve Bunting
Last year, Debbie and I analyzed several picture books about children in Indian boarding school for a book chapter. We intentionally left out of our chapter a fairly popular 1993 book, Cheyenne Again, by European-American writer Eve Bunting, illustrated by Dine artist Irving Toddy. I recently saw it in a display of children's books about Native people in the Little Bighorn Battlefield National Monument bookstore (which also featured several good books created by Native people.)
Young Bull, the narrator of Cheyenne Again, is 10 when the story starts. It's apparently set in the late 1800s, when boarding schools began to proliferate. A white man and a uniformed, fully assimilated Native man come to Young Bull's community and tell his family that he must go away to school.
The boy doesn't want to go. But his father tells him he "needs to learn the White Man's ways"– and there will be food for him at school. How the father can be sure of that is not explained.
So Young Bull rides the train to an unnamed school. School officials cut his hair, take his clothes, make him wear a scratchy uniform, disrespect his heritage. With dozens of fellow students, he marches in formation, goes to church, and helps repair the school dormitories. He learns to read, and notices that the school's history books say nothing about how Cheyenne and Sioux (sic) defeated Custer at Greasy Grass. He cries for home in his bed at night.
Then one night he runs away — into a blizzard. He's caught and shackled for a day as punishment. A sympathetic teacher then encourages him to "Never forget that you are Indian inside." He finds that drawing scenes of home and of Cheyenne heroism at Greasy Grass helps him feel that he is "Cheyenne again." Continue reading.
---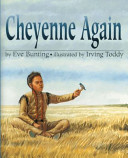 Cheyenne Again by Eve Bunting
Published by Clarion Books on 2002-05
Genres: Education, American Indians First Nations Metis Inuit
Pages: 32
Reading Level: Grade K, Grades 1-2
ISBN: 9780613606721
Review Source: American Indians in Children's Literature
Also by this author: Smoky Night

Publisher's Synopsis: In the late 1880s, a Cheyenne boy named Young Bull is taken to a boarding school to learn the white man's ways.