Reviewed by Beverly Slapin
Review Source: De Colores
Book Author: Carmen T. Bernier-Grand
In a powerful collection of lyrical, free verse poems rich in farmworker idiom, Bernier-Grand has reconstructed the life and work of the founder and organizer of the United Farm Workers. What makes these poems remarkable is that they not only chronicle the life of a brave and humble man, they also contain his own words. The back-breaking work of thinning lettuces with a short-handled hoe, workers trying not to breathe in the deadly pesticides, people too tired to feel their hunger, and a prayer: "give me honesty and patience, so that I can work with other workers." César: ¡Sí, Se Puede! Yes, We Can!, a Pura Belpré Honor Book, will help develop empathy in young readers, will help them understand the stuff and dreams that make heroes out of ordinary people. Continue reading.
---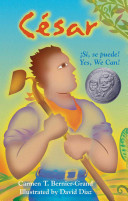 César
by
Carmen T. Bernier-Grand
Published by
Marshall Cavendish
on 2004
Genres:
Bilingual
,
Labor
,
Latinx
Pages:
48
Reading Level:
Grades 3-5
ISBN:
9780761451723
Review Source:
De Colores: The Raza Experience in Books for Children
Publisher's synopsis: Stylized illustrations by a Caldecott Medalist accompany lyrical prose and poems in this celebration of the life of Cesar Chavez. This thoughtful and beautiful biography illuminates not only the events that made up the great labor leader's life, but also the ideals and inspiration that are his legacy. "An excellent choice."--"School Library Journal," starred review. Full color.