Reviewed by: Cindy L. Rodriguez
Review Source: Latinxs in Kid Lit
Book Author: Skila Brown
Skila Brown's debut novel in verse tells the heartbreaking story of Carlos, who is forced from his devastated village and treks up a mountainside to save his grandmother and her neighbors from a similar fate.
One thing that struck me most was Brown's ability to create a touching coming-of-age narrative set in such tragic events. The novel is not graphic, although the topic is brutal. And while it is a civil war, fueled by politics, Brown does not support or condemn any side. Instead, more than anything, it's about the ability of the human spirit to survive and persevere even after an unexpected, horrific loss. Continue reading.
---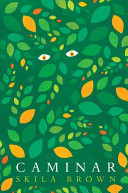 Caminar
by
Skila Brown
Published by
Candlewick Press
on 2014
Genres:
Central America
,
Historical Fiction
,
War
Pages:
193
Reading Level:
Grades 3-5
,
Grades 6-8
ISBN:
9780763665166
Review Source:
Latinx in Kid Lit
Publisher's Synopsis: Set in 1981 Guatemala, a lyrical debut novel tells the powerful tale of a boy who must decide what it means to be a man during a time of war.

Carlos knows that when the soldiers arrive with warnings about the Communist rebels, it is time to be a man and defend the village, keep everyone safe. But Mama tells him not yet — he's still her quiet moonfaced boy. The soldiers laugh at the villagers, and before they move on, a neighbor is found dangling from a tree, a sign on his neck: Communist. Mama tells Carlos to run and hide, then try to find her. . . . Numb and alone, he must join a band of guerillas as they trek to the top of the mountain where Carlos's abuela lives. Will he be in time, and brave enough, to warn them about the soldiers? What will he do then? A novel in verse inspired by actual events during Guatemala's civil war, Caminar is the moving story of a boy who loses nearly everything before discovering who he really is.