The books on our booklists have each been carefully selected from a big stack of books we review each week.
But we'd like to also share some of the books that we do not recommend and how critiques have led to recalls or revisions.
At our Social Justice Books website, we feature more than 90 booklists and 500 book reviews. The books are selected and reviewed by our staff/volunteers and a variety of trusted children's literature websites.
In November, 2022, we added "not recommended" reviews to the bottom of each booklist by theme, starting with Africa, American Indians, Environment, and Immigration.
Find all of our book reviews by rating, theme, and reading level, as well as a sortable archive.
Below is a list of our NOT recommended books to date.
Reviews in Action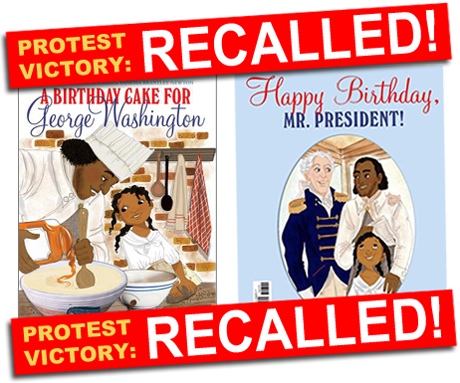 In 2016, Edi Campbell critiqued A Birthday Cake for George Washington, a picture book about Hercules, the chef who was enslaved by the president. The review led to campaign by a coalition of groups including Teaching for Change. Under pressure, Scholastic recalled the book.
In 2018, we were successful in convincing Junot Díaz and his publisher to revise the illustrations of the monster in Islandborn.
The author of Pies From Nowhere made thoughtful edits after reading a review we posted by SNCC veteran Judy Richardson.
---
NOT Recommended