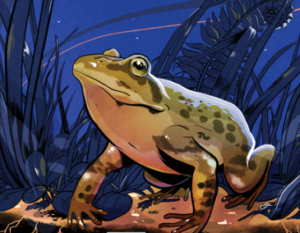 Hetxw'ms Gyetxw, also known as Brett D. Huson, is from the Gitxsan Nation of the Northwest Interior of British Columbia, Canada. Growing up in this strong matrilineal society, Brett developed a passion for the culture, land, and politics of his people, and a desire to share their knowledge and stories. Brett has worked in the film and television industry for over 13 years and is a volunteer board member for organizations such as Ka Ni Kanichihk and sākihiwē festival. Brett also works with the Prairie Climate Centre to connect western science and Indigenous Knowledges.
The award-winning Mothers of Xsan series is Brett's first series of books and part of a larger vision to share the worlds of the Gitxsan Nation. With the support of his wife, Jeri, and their children, Warren and Ruby, Brett endeavors to continue sharing stories with his writing, artwork, and photography. (Series description from Bookshop.org).
Titles with reviews on this site are noted with an asterisk(*). This series was recommended to us by Dr. Debbie Reese of American Indians in Children's Literature.  She reviewed The Grizzly Mother and The Sockeye.
See more recommended titles on our booklist for American Indians / Indigenous Peoples / Native Nations
---
Pronunciation guide for Gitxsan words appearing in The Sockeye Mother.