Reviewed by Lidwien Kapteijns
Review Source: Africa Access
Book Author: Elizabeth Wein
This historical novel for young adult readers is a remarkable achievement. First of all, the novel has a great plot. It is set in Ethiopia during the Italian-Ethiopian war of 1935-1936, which in East Africa ushered in World War II.
Its main characters are two teenagers, both children of American mothers who earned a living as stunt pilots after World War I and married foreign husbands.
Emilia (or Em) is the daughter of a white mother from Pennsylvania (Rhoda or "White Raven") and an Italian aviator father, while Teodros (or Teo) is the orphaned son of an African-American mother (Delia or "Black Dove") and an Ethiopian expatriate father. Continue reading.
---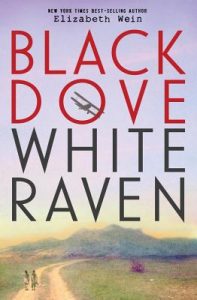 Black Dove, White Raven
by
Elizabeth Wein
Published by
Egmont UK
on February 26th 2015
Genres:
Africa
,
Family
,
Racism
,
Teen Years
,
War
,
World History
Pages:
496
Reading Level:
High School
ISBN:
9781780314839
Review Source:
Africa Access
Buy at Powell's Books
Publisher's synopsis: "Think of the sky!" Delia gave Momma's hands a shake. "Think of the sky in Ethiopia! What will it be like to fly in Africa?"

This New York Times bestseller is a story of survival, subterfuge, espionage and identity.

Rhoda and Delia are American stunt pilots who perform daring aerobatics to appreciative audiences. But while the sight of two girls wingwalking – one white, one black – is a welcome novelty in some parts of the USA, it's an anathema in others. Rhoda and Delia dream of living in a world where neither gender nor ethnicity determines their life. When Delia is killed in a tragic accident, Rhoda is determined to make that dream come true. She moves to Ethiopia with her daughter, Em, and Delia's son, Teo.

Em and Teo have adapted to scratching a living in a strange land, and feel at home here; but their parents' legacy of flight and the ability to pilot a plane places them in an elite circle of people watched carefully by the Ethiopian emperor, Haile Selassie, who dreams of creating an air force for his fledgling nation. As Italy prepares for its invasion of Ethiopia, Em and Teo find themselves inextricably entangled in the crisis — and they are called on to help.

Elizabeth Wein is a leading voice in young adult historical fiction. Her novel Rose Under Fire was nominated for the Carnegie Medal and shortlisted for the Costa Award 2014.

Elizabeth is a member of the Ninety-Nines, the International Organization of Women Pilots. She was awarded the Scottish Aero Club's Watson Cup for best student pilot in 2003 and it was her love of flying that partly inspired the idea for her bestselling, award-winning novel Code Name Verity.