Reviewed by Paige Pagan
Review Source: Teaching for Change
Book Author: Mitali Perkins
Between Us and Abuela is a compelling story about family separation at the Mexico-United States border and the longing for reunion. Young María and Juan travel with their mother on La Posada Sin Fronteras (The Inn Without Borders) to the enforcement zone, located between the primary and secondary border walls, to see Abuela in Tijuana for the first time in five years and share the joy of Christmas as a family. As I explain below, I recommend the book for it's description of the impact of the border on families. However, it is problematic in its sympathetic representation of the U.S. border patrol. 
In advance, María knits a woolen scarf for Abuela to wear on the long journey back to her village (p. 2) and Juan makes a picture of Mary and Joseph during Las Posada to give to her. The fence that separates María, Juan, and Mamá from Abuela makes it feel like they're worlds apart. 
They try to make the best out of their visit, but when their allotted thirty minutes are up, María tries to squeeze the scarf for Abuela through the fence and is told by a border patrol officer that nothing can pass through. Juan is distraught when he can't give his drawing to Abuela. María devises a plan to fly Juan's picture like a kite over the border fence to Abuela. The border patrol officer encourages her to get it over in this innovative way. She successfully flies the picture over to Abuela, symbolizing togetherness through their separation.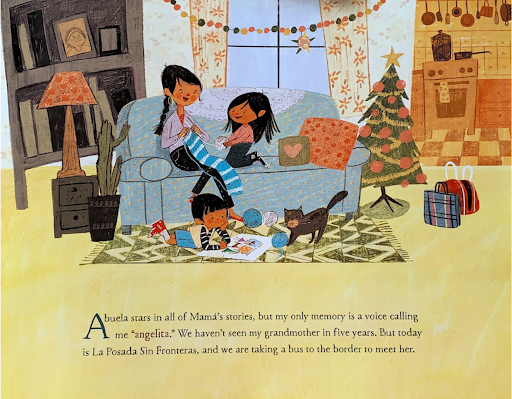 Perkins captures the struggle of being physically separated from family while keeping the memory of them with you. The illustration on the first page shows María, Juan, and Mamá preparing for their visit with Abuela. Their house is decorated for Christmas, their bags are ready, and on the bookshelf is a framed photo of Abuela. Even though María's only memory of Abuela is her voice calling "angelita," Mamá ensures that the children know what Abuela looks like and who she is by featuring her as the star of all the stories she tells them so that Abuela remains with them in their hearts.
At the Mexico-United States border, María notices the two high, strong fences stretching deep into the sea (p. 4), Border Patrol Officers Drake and Medina guarding the gate entrance, the lighthouse of Tijuana, palm trees that sway towards Mexico, and seagulls that are free to fly from one side to the other; all emphasizing the division between them and Abuela. Medina, the presumably Latino officer, tells everyone that there will only be twenty-five people let in at a time and each group gets thirty minutes. There is a sense of collectivity as family and friends wait in line expectantly on the San Diego side of the border to get their turn to meet their loved ones again. 

When María, Juan, and Mamá see Abuela, they are overcome with emotion and their words trip over each other. María thinks a hug from Abuela feels like hugging a chunk of cookie dough, but the only physical touch they can share is Abuela dropping kisses on her and Juan's fingertips through the fence. As the minutes quickly go by, their sense of separation lessens when they listen to the priest's Christmas stories and sing carols together. Just when the fence seems invisible, Drake, the white-presenting officer, opens the gate and says that time is up. María tries to push the scarf through a gap in the fence when Drake comes over and grabs it. María wonders if he's going to confiscate it, but he just hands it back to Mamá and apologizes for the rule that nothing can go through the fence.
Even though María's scarf can't make it through, she's determined to get Juan's picture to Abuela. Watching two seagulls soar, María has a lightbulb moment and uses Mamá's knitting needles and thread to make the picture into a kite to fly over the fence. Mamá warns, "Better ask for permission," (p. 19) and when María holds up her invention to Drake and Medina, Medina shakes his head in disapproval, but Drake examines it and concludes that as long as it's not passing through the fence, it's technically not breaking any rules. María and Juan tirelessly try to fly the picture over the fence. People on both sides of the border call out advice and Drake yells, "Don't give up, kid!" (p. 23). When Juan's picture soars over both fences into Mexico like the seagulls, people yell from San Diego, "Keep an eye on it!" and Mexico responds, "It's landed!" (p. 29). Like the picture frame and stories María and Juan have of Abuela, Abuela now has a piece of the children to carry with her.
While this is a heartwarming story, there is a caveat. The reality of border patrol — historically and currently — is not full of happy endings. In this fictional narrative, Drake is painted as the good officer, while Medina is painted as the bad officer. I'm not suggesting that border patrol officers should be solely demonized, but why choose to paint such a positive picture of them at all given their traditional role? And if making one of them a sympathetic character, why choose the white-presenting officer and not the Latino officer? 
In a story that shows the harshness of border separation and brings representation to immigrants, the dynamic of Drake and Medina reinforce certain racial stereotypes. Drake is the white savior and as a result is seen as softer than Medina who is more strict and therefore is aligned with machismo culture, maintaining his sense of authority. When sharing this book, I recommend initiating a conversation with children about the history of border patrol relations, immigration policy, zero-tolerance, rapid deportation, and migrant camps.
Paige Pagan is a Social Justice Books Program Specialist at Teaching for Change.
---

Between Us and Abuela
by
Mitali Perkins
on September 10, 2019
Genres:
Family
,
Immigration and Emigration
,
Latinx
Pages:
40
Reading Level:
Early Childhood
,
Grade K
ISBN:
9781466899834
Review Source:
Teaching for Change
Also by this author:
Rickshaw Girl
,
Home Is in Between
Publisher's Synopsis:

Américas Award for Children's and Young Adult Literature WinnerGolden Poppy Award Winner
Charlotte Huck Honor Book
ALSC Notable Children's Book
NCSS Notable Social Studies Trade Book Pick
Junior Library Guild SelectionNorthern California Book Award nominee

A timely debut picture book about love overcoming the border fences between Mexico and the United States.

It's almost time for Christmas, and Maria is traveling with her mother and younger brother, Juan, to visit their grandmother on the border of California and Mexico.
For the few minutes they can share together along the fence, Maria and her brother plan to exchange stories and Christmas gifts with the grandmother they haven't seen in years. But when Juan's gift is too big to fit through the slats in the fence, Maria has a brilliant idea. She makes it into a kite that soars over the top of the iron bars.
Here is a heartwarming tale of multi-cultural families and the miracle of love.