Reviewed by 
Edi Campbell
Review Source: Cotton Quilts
Book Author: Aisha Saeed
Among the 14 facts about Aisha Saeed on her website are the facts that she's worked as a lawyer and an elementary teacher, she speaks three languages and she's a fantastic air hockey player. And, she loves to write. When interviewed by Publishers Weekly about what inspired her to write Amal Unbound, Saeed explained that the first inspiration came from Malala Yousafzai, but she continued to think about young people who don't always get noticed for what they do. "It's important for us to think about the people who perform brave acts who will never see their names in a headline. From that premise, I started writing about Amal. I wanted her to do something brave, something people wouldn't know about, but that would be equally important [to Malala's real-life advocacy of education for girls]."
Amal, like Saeed is of Pakistani descent and, Amal's story in placed in a fictionalize town similar to Saeed's ancestral home. I would imagine that Saeed loved learning every bit as much a Amal. Amal loves it so much that she wants to become a teacher. But, as she leaves her classroom on the day we meet her, we find out that this will be her last day in that school. What will happen that keeps her from returning? Continue Reading.
---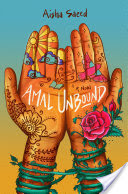 Amal Unbound
by
Aisha Saeed
Published by
Penguin
on May 8, 2018
Genres:
Asia
Pages:
288
Reading Level:
Grades 6-8
ISBN:
9780399544705
Review Source:
Cotton Quilts
Publisher's Synopsis: "Saeed's timely and stirring middle-grade debut is a celebration of resistance and justice."--Kirkus Reviews, starred reviewThe compelling story of a girl's fight to regain her life and dreams after being forced into indentured servitude.

Life is quiet and ordinary in Amal's Pakistani village, but she had no complaints, and besides, she's busy pursuing her dream of becoming a teacher one day. Her dreams are temporarily dashed when--as the eldest daughter--she must stay home from school to take care of her siblings. Amal is upset, but she doesn't lose hope and finds ways to continue learning. Then the unimaginable happens--after an accidental run-in with the son of her village's corrupt landlord, Amal must work as his family's servant to pay off her own family's debt.

Life at the opulent Khan estate is full of heartbreak and struggle for Amal--especially when she inadvertently makes an enemy of a girl named Nabila. Most troubling, though, is Amal's growing awareness of the Khans' nefarious dealings. When it becomes clear just how far they will go to protect their interests, Amal realizes she will have to find a way to work with others if they are ever to exact change in a cruel status quo, and if Amal is ever to achieve her dreams.