Reviewed by Beverly Slapin
Review Source: De Colores Reviews 
Book Author: Jorge Argueta
Alfredito and his grandma and parents are preparing to go home to El Salvador for Christmas—the first time they've returned since they fled as refugees and made their way to California on foot. This will be the first plane ride for them, and anticipation has little worms crawling in Alfredito's stomach. The shopping for gifts for all the friends and relatives back home; the excitement of being on a plane "that jumps like a frog and leaves everything behind"; the joyful reunion with his sister and his aunts, uncles, cousins, friends, and new puppies; the visit with his grandparents who "live in the cemetery…so full of little birds and is nice and hot so my grandparents don't feel so cold and alone"; and the good-bye piñata that no one wants to end—too soon it is over and Alfredito must fly home again, to California.
Argueta inserts Spanish terms into Alfredito's narration and his family's dialogue, reflecting a merger of two languages in a relaxed atmosphere. The Spanish version, Alfredito regresa volando a su casa, is idiomatic and flowing, so hablantes will enjoy the story as well. Continue reading.
---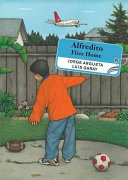 Alfredito Flies Home
by
Jorge Argueta
Illustrator:
Luis Garay
Published by
Groundwood Books
on 2007
Genres:
Immigration and Emigration
,
Latinx
Pages:
40
Reading Level:
Grades 3-5
ISBN:
9780888995858
Review Source:
De Colores: The Raza Experience in Books for Children
Also by this author:
Salsa
,
Somos Como Las Nubes / We Are Like the Clouds
,
A Movie in My Pillow
Publisher's synopsis: Alfredito and his family are getting ready to return to El Salvador for Christmas. It will be their first visit back since they left as refugees and made their way to California on foot. But this time they're flying! Excitement mounts as Alfredito and his family soar over the Earth and finally arrive at their beloved home to reunite with family and friends. This extraordinary book celebrates an experience familiar to the many who have left their original country to find a new life. Jorge Argueta's tender, clever prose is perfectly complemented by Luis Garay's rich, authentic illustrations.