Reviewed by John Thornton
Reviewed Source: Africa Access
Book Author: Monica Edinger
Author Monica Edinger was intrigued with the story of the Amistad when she visited the museum in Mystic, Connecticut dedicated to it, and because she had lived for two years in the very region of Sierra Leone where the Amistad captives once lived. But she also had the good fortune of discovering a large number of largely unknown and unused primary sources about Margu, whose remarkable story not only included her captivity, the famous court case and her eventual return to Mendeland in Sierra Leone, but also a later return to the United States, and graduation from Oberlin College.
This body of research might well have ended up as an academic project but Edinger, an educator decided to make it a children's book. It was a good decision, for this is a story well told, a story of Africa, of perseverance and ultimately of a human view of the slave trade. Continue reading.
---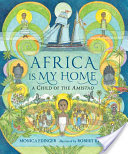 Africa Is My Home: A Child of the Amistad
by
Monica Edinger
Illustrator:
Robert Byrd
Published by
Candlewick Press
on 2013
Genres:
Africa
,
African American
Pages:
55
Reading Level:
Grades 6-8
ISBN:
9780763650384
Review Source:
Africa Access
Buy at Powell's Books
Publisher's synopsis: Inspired by a true account, here is the compelling story of a child who arrives in America on the slave ship Amistad —and eventually makes her way home to Africa.
When a drought hits her homeland in Sierra Leone, nine-year-old Magulu is sold as a pawn by her father in exchange for rice. But before she can work off her debt, an unthinkable chain of events unfolds: a capture by slave traders; weeks in a dark and airless hold; a landing in Cuba, where she and three other children are sold and taken aboard the Amistad; a mutiny aboard ship; a trial in New Haven that eventually goes all the way to the Supreme Court and is argued in the Africans' favor by John Quincy Adams. Narrated in a remarkable first-person voice, this fictionalized book of memories of a real-life figure retells history through the eyes of a child — from seeing mirrors for the first time and struggling with laughably complicated clothing to longing for family and a home she never forgets. Lush, full-color illustrations by Robert Byrd, plus archival photographs and documents, bring an extraordinary journey to life.