Reviewed by Edith (Edi) Campbell
Review Source: Cotton Quilts
Book Author: Zetta Elliott
Genna's mother probably never told her to be careful what she wished and she probably never told Genna that she was beautiful, or smart, or a wonderful daughter. Mom was too busy struggling with a son and a daughter she already lost to the streets, trying to make ends meet on her single income and getting through life's daily demands. No, life was not easy for Genna and her family in Brooklyn. We know that Gemma is intelligent, tall, responsible, friendless and losing hope. She's a young girl who doesn't know her gifts or her options. She really leads a sheltered life and is unaware of much in the world around her, except for the world that exists in her garden.
She's crushin' on Judah and when they finally get together, her world expands. There is much tension brought in her home because of the decisions of her older siblings and how they affect the dynamics of the household.
Genna comes of age in this story, but not before she makes one fateful wish that takes her to the past. She transcends time and space to land in Civil War era Brooklyn. Her relationships lead her to uncover the depths of racial relations in New York City, what freedom really means, her true beauty and her real love. Continue reading.
---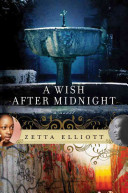 A Wish After Midnight
by
Zetta Elliott
Published by
Skyscape
on 2010
Genres:
African American
,
U.S. History
Pages:
270
Reading Level:
High School
ISBN:
9780982555057
Also by this author:
The Door at the Crossroads
,
Max Loves Muñecas!
,
Milo's Museum
Publisher's Synopsis: Genna is a fifteen-year-old girl who wants out of her tough Brooklyn neighborhood. But she gets more than she bargained for when a wish gone awry transports her back in time. Facing the perilous realities of Civil War-era Brooklyn, Genna must use all her wits to survive. In the tradition of Octavia Butler's Kindred and Madeleine L'Engle's A Wrinkle in Time, A Wish After Midnight is the affecting and inspiring tale of a fearless young woman's fight to hold on to her individuality and her humanity in two different worlds.