Reviewed by CCBC
Review Source: Cooperative Children's Book Center
Book Author: Sylvia Liu
Mei Mei watches Gong Gong doing tai chi and wants to learn how it's done. The little girl's attempts to emulate her grandpa are enthusiastic, but it's hard for her to control her abundant energy as she turns every move into a chance to show off. Gong Gong clearly understands his granddaughter's self-centered behavior is simply part of being a child, and he is both patient and playful as he directs her.
---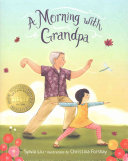 A Morning with Grandpa
by
Sylvia Liu
Illustrator:
Christina Forshay
on 2016
Genres:
Asia
,
Asian American
,
Family
Pages:
32
Reading Level:
Grades 1-2
ISBN:
9781620141922
Review Source:
Cooperative Children's Book Center
Mei Mei's grandpa is practicing tai chi in the garden, and Mei Mei is eager to join in. As Gong Gong tries to teach her the slow, graceful movements, Mei Mei enthusiastically does them with her own flair. Then Mei Mei takes a turn, trying to teach Gong Gong the yoga she learned in school. Will Gong Gong be able to master the stretchy, bendy poses?Winner of Lee & Low's New Voices Award, A Morning with Grandpa celebrates, with lively spirit and humor, the special bond between grandparent and grandchild and the joy of learning new things together. Readers of all ages will want to try out some tai chi and yoga too!