Reviewed by Edi Campbell
Review Source: Cotton Quilts
Book Author: Elizabeth Laird
I first heard about A Little Piece of Ground back in 2006 at a dinner in Jeddah. It's only fitting that I found out about this book on that trip because it's when I really began to put a face on Palestine, to understand that real people were affected by the occupation. I met Palestinians who were traveling with no passport (they don't have a country) and consequently, limited economic opportunity.  In the US, we'll talk about the Israel/Palestine conflict from an Israeli perspective, but not Palestinian, as if to find any faults in Israeli's actions is to question it's right to exist. We give Palestine no visibility.
A Little Piece of Ground remained on my radar and when I recently spotted it in my library I decided to finally read it. And, I'm glad I did.
Karim Aboudi is growing up in Ramallah with an older brother and two younger sisters. He plays soccer, video games, tussles with his brother and goes to school when the curfews are lifted. Now, however, he can't go to school at all because the building has been destroyed by the Israeli occupiers. The day to day rhythm of Karim's life is set by the curfews that are sporadic in occurrence and will last for an unannounced amount of time. Karim's life is stress-filled.
Several key events happen on a particular trip to his family's home village that mark his passage into adulthood. The cruel, oppressive occupation makes this transition sudden. Boys of a certain age and size are viewed and treated as men. (Doesn't that sound familiar?) And these men see things that they ignored as children and they don't like what they see. As men, Karim and his friends Hopper and Joni find ways to resist their occupiers, no matter how futile their efforts. How often do young people come of age in middle school books? Oppression ages us quickly.
There are several pieces of ground that are significant to the story. One is a rocky, trash-filled lot where Karim and his friends bond their friendship. They claim their space in an abandoned car, mark their land with a flag made from rocks and old paint and celebrate on it when they play soccer together. This little piece of ground gives Karim something he hasn't found elsewhere and it communicates the attraction people in general have to the land. Continue reading.
---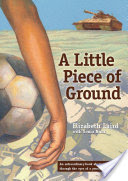 A Little Piece of Ground
by
Elizabeth Laird
Published by
Haymarket Books
on February 1, 2016
Genres:
Middle East
,
Sports
Pages:
240
Reading Level:
Grades 3-5
,
Grades 6-8
ISBN:
9781608465835
Publisher's Synopsis: A Little Piece Of Ground will help young readers understand more about one of the worst conflicts afflicting our world today.

Written by Elizabeth Laird, one of Great Britain's best-known young adult authors, A Little Piece Of Ground explores the human cost of the occupation of Palestinian lands through the eyes of a young boy.

Twelve-year-old Karim Aboudi and his family are trapped in their Ramallah home by a strict curfew. In response to a Palestinian suicide bombing, the Israeli military subjects the West Bank town to a virtual siege. Meanwhile, Karim, trapped at home with his teenage brother and fearful parents, longs to play football with his friends. When the curfew ends, he and his friend discover an unused patch of ground that's the perfect site for a football pitch. Nearby, an old car hidden intact under a bulldozed building makes a brilliant den. But in this city there's constant danger, even for schoolboys. And when Israeli soldiers find Karim outside during the next curfew, it seems impossible that he will survive.

This powerful book fills a substantial gap in existing young adult literature on the Middle East. With 23,000 copies already sold in the United Kingdom and Canada, this book is sure to find a wide audience among young adult readers in the United States.