Reviewed by Katelyn Campbell
Review Source: Independent
Book Author: Marcus Ewert
10,000 Dresses shares the story of a trans girl, Bailey, who is trying to make her dreams a reality. Each night, Bailey dreams of a different mystical dress, which she in turn asks each of her family members if they can help her find the next morning. Despite her best efforts, Bailey's family members are not willing to help her find the dress of her dreams, saying that boys can't wear dresses, and that Bailey should stop asking them such questions.
Bailey's story and eventual victory are great jumping off points for conversations about gender identity. Author Marcus Ewert paints Bailey as a sympathetic figure through her honest requests for help to simply access pieces of clothing that make her feel special. Ewert also earns credit by consistently using the correct pronouns for Bailey from the beginning — making it all the more surprising for youth hearing the story when Bailey's parents don't believe her when she reminds them that she's a girl.
---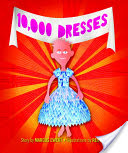 10,000 Dresses
by
Marcus Ewert
Illustrator:
Rex Ray
Published by
Seven Stories Press
on January 4th 2008
Genres:
LGBTQ
Pages:
32
Reading Level:
Grade K
,
Grades 1-2
ISBN:
9781583229507
Review Source:
Independent
Publisher's synopsis: Every night, Bailey dreams about magical dresses: dresses made of crystals and rainbows, dresses made of flowers, dresses made of windows. . . . Unfortunately, when Bailey's awake, no one wants to hear about these beautiful dreams. Quite the contrary. "You're a BOY!" Mother and Father tell Bailey. "You shouldn't be thinking about dresses at all." Then Bailey meets Laurel, an older girl who is touched and inspired by Bailey's imagination and courage. In friendship, the two of them begin making dresses together. And Bailey's dreams come true!
This gorgeous picture book—a modern fairy tale about becoming the person you feel you are inside—will delight people of all ages.